You don't need to be at your desk to do email! With voice commands and reply dictation, you can listen to your email, reply and manage mail using speech input and output.
As well as giving back hours of productive time to business users Speaking Email is helping people living with disabilities in a study at University of South Carolina, and a finalist in the NZ Hi-Tech Awards.
University of South Carolina low-cost tech disability study
Research is underway at the USC School of Medicine using Speaking Email and other low cost tech to assist people with disabilities. We are very proud to be involved in this study, which is so far helping people living with macular degeneration and severe dyslexia.
NZ Hi-Tech Awards
This month Speaking Email was named a finalist in the 2017 Hi-Tech Awards.

Voice commands and reply dictation
Many users have asked for voice commands and reply dictation - they have been our most requested features. We now have both these features fully baked and released. (You may have seen these features already - we put them out and refined them over the past couple of weeks.)
Personally, I was skeptical about how useful voice would be.
These features took a while to come to fruition because we wanted to do it well or not at all. Given the experiences I've had using software like Siri, Talkler, and trying out other voice assistants, I thought voice would be annoying to use.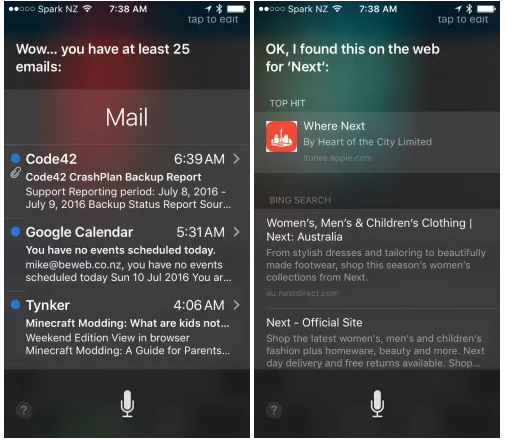 If Siri mishears a command it just says "I didn't understand that" and stops. No chance to try again.
How we did it
We've tried to address these sort of issues. I'll give you a rundown of how it works.
Tap anywhere to see the command buttons. Then either tap a button or you can say its name, like "trash".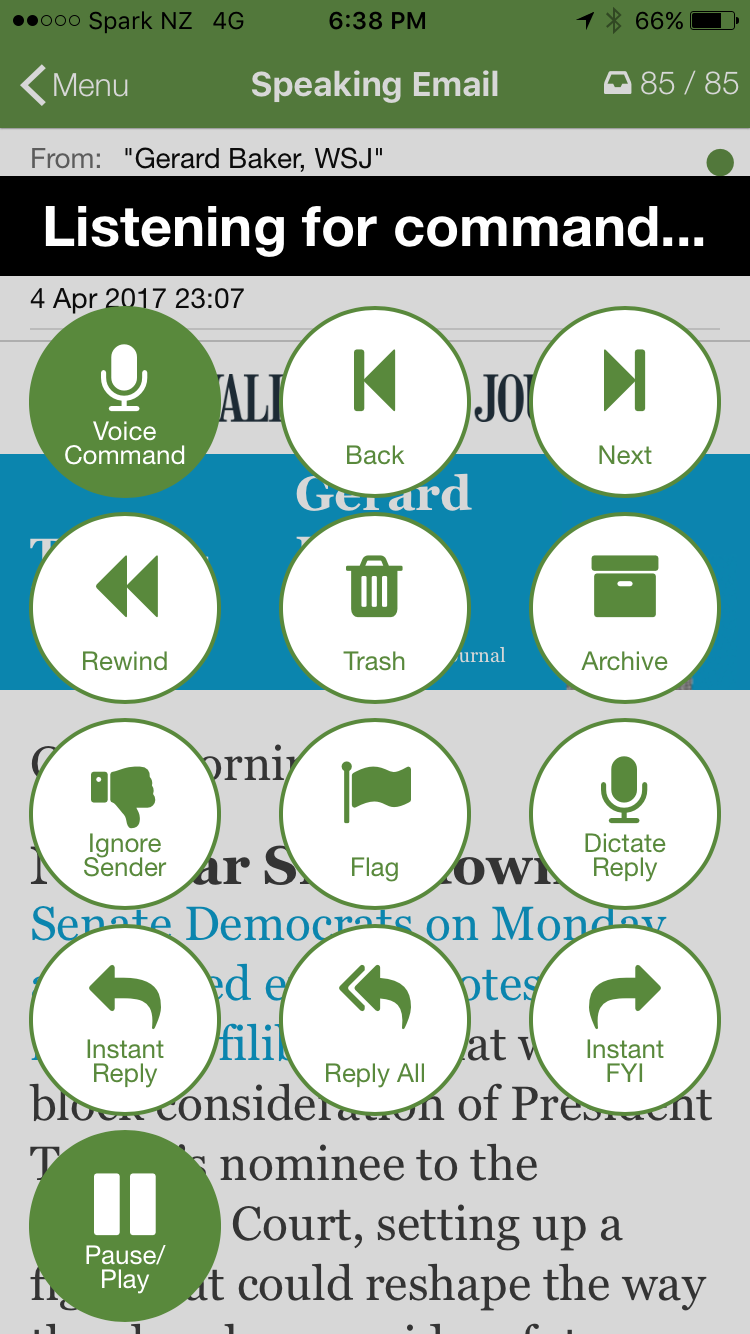 You can say any of the labels on the buttons: "archive", "trash", "ignore", "flag", "repeat", "reply", "forward", "play". This makes it very easy to remember what you can say and when.
For the "forward" command, a list of your preset forwarding recipients is shown. You can say the first word of the email address to select the person to send to. For example for "mike.nelson@beweb.co.nz" say "mike".
Anywhere you can say a command you can say "help" to find out what you can say, or "stop" to stop listening.
Dictation too
Speaking Email dictation keeps listening as long as the operating system will allow - on iOS this is two minutes and it's ok if you pause for breath during this time. At this time on Android unfortunately a pause of a couple of seconds will stop the dictation (so you need to speak without pausing).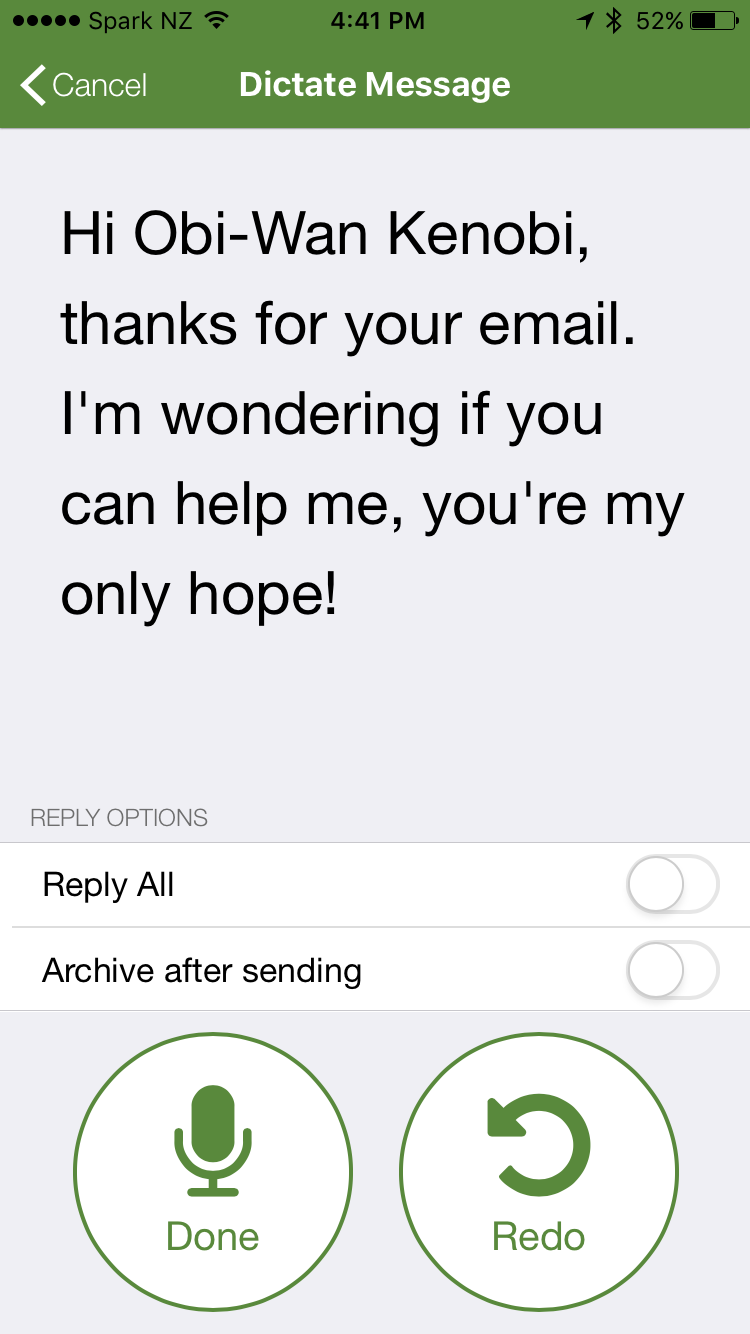 When you tap "done" or pause for 10 seconds (2 seconds on Android) Speaking Email repeats back what it thinks you said so you can change it before sending. You can say "redo", "send", "cancel" or "more" to add more. If you say "send" or "cancel" it carries on reading your next email to you without further ado.
The little things
We've taken care over the little things that make all the difference:
Your words always appear on screen as you talk
If you say a wrong command, we don't leave you hanging, we just listen again
When you say a command, we repeat it back so you know what action you triggered
After a command we keep going, moving on and reading the next email as usual
If you say a command like "forward" that needs more input (the recipient name) we've made sure the entire experience can be done by voice
When we say commands can be done by voice, we mean without looking (not like Siri where half the time you get visual feedback only and hear nothing)


In dictation, Speaking Email uses voice recognition in the language set in your operating system settings. In case this is not what you expect, it's shown on screen. If you have any problems with the recognition, check your system settings to make sure this language has voice recognition downloaded and available for offline use.
One satisfied user
And you know what? After my initial skepticism I now find the voice commands and dictation incredibly useful and don't know how I got by without them!
Actually, it's not just me, other people agree. Here's Scott Middleton, a sales VP at Access Partners in California:
The game changer for me with your app was your new feature that allows dictating replies and functions. That is a huge advantage for Speaking Email over all the other apps...




I absolutely love the app and being an outside sales rep in the car 4 to 6 hours a day find it incredibly helpful. It is literally freeing up and hour or two of time for me every day I am on the road by having a lot less time at the desk doing email. THANKS!!!
Bonus: disclaimers
We found sometimes the dictation engine would come out with something a little off beat that we hadn't intended. So we decided to embrace that and added a light hearted disclaimer in our tagline.

You can turn our tagline off in Preferences if you want to, and/or add your own signature.