21 May 2023
Secure Yahoo & AOL Sign In
Yahoo has approved Speaking Email to connect directly to Yahoo mail servers with secure login provided by Yahoo Sign In. We've launched this feature this month and had positive feedback from users.
13 Apr 2023
AI OCR text extraction from scanned PDF attachments
Most PDF documents have a text-track embedded, which is how we normally get the text out of PDF attachments to read them out to you. Some PDFs don't have this text-track, which is the case when the original source is an image for example. Speaking Email now uses OCR (optical character recognition) based on Tesseract 4, an AI-powered text recognition system which includes multilingual language models. Note that this is run on our servers, not involving any external providers, so your data remains private within Speaking Email's infrastructure.


27 Aug 2022
Changelog highlights
See the latest changes we have implemented in our changelog. Here are highlights from the past year:
- Fixed android speech recognition bugs
- Microsoft 365 bug fixes and improvements
- Archive and Sent folders are now playable like other folders on Gmail, Microsoft 365 and IMAP
- Faster syncing when switching folders
- Faster recognition of voice command
- Improved permissions handling
- Better spelling of people's names in dictated response
- New "incoming" command takes you to the "waiting for incoming mail" screen
- New "resume" command plays from the email you were last on
- Mail sending for all IMAP email accounts is via their corresponding SMTP servers where possible
- Basic edition now has voice commands
- New option to just skip promotional emails without reading the date and subject


1 Aug 2022
Fix for Google Speech System faults in Android in 2022
Speaking Email and other apps were affected by some bugs introduced by Google into their speech engine earlier this year. This caused disruption for several months, which was especially problematic for blind users who rely on Speaking Email. We have finally found a workaround. The latest Android release of Speaking Email includes this fix.
22 Aug 2021
Changelog
We have been tweaking and improving the features of Speaking Email and its feature set is now fairly mature and stable. You can track the latest changes here on our changelog. Recent changes include:
- custom replacements
- voice controlled preferences
- always-present mic button
- improved playback of different folders
- play archive and sent folders
- save draft (gmail only)
- block sender command
- improved help
8 Jul 2020
Gizmodo mention
Apple being Apple, you don't get the same choice of third-party reading apps as you do on Android, because they just don't have the same sort of low-level OS access. One exception is Speaking Email...
21 Jan 2020
Speaking Email CarPlay gets green light from Apple
This month we launched Speaking Email CarPlay
1 Oct 2019
Launch of v2.0
Version 2.0 is now here! Since launching Speaking Email 1.0 four years ago, we've come a long way. Now you can compose new emails to your contacts, and file emails to a folder of your choice.
1 Jul 2019
Speaking Email featured by Microsoft
We are now a Microsoft App Partner for Enterprise Mobility + Security which means we adhere to your IT department's security policies for organisation wide rollouts.
23 February 2019
Mashtips: 5 Best Apps Read Text Messages While Driving for iPhone & Android
Let's imagine that you are totally driving for a duration of 2 to 3 hours every day. And, you would like to utilize this time to check your emails. Then, the best option is to use an app like Speaking Email which will read out the new emails aloud and help you to respond to them as well...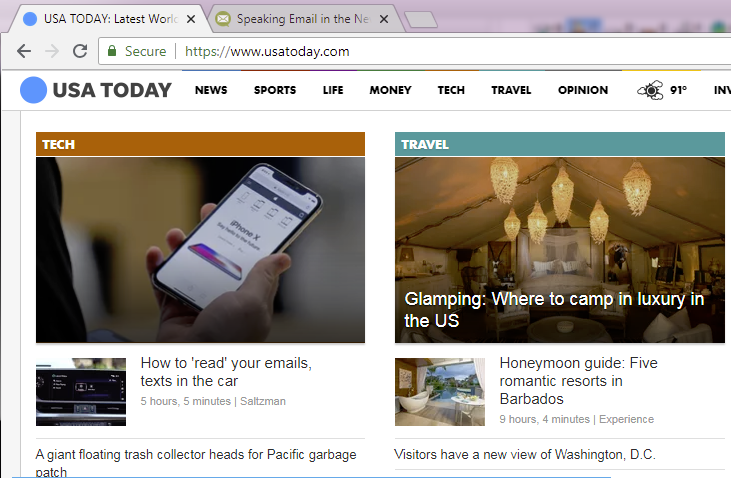 9 August 2018
Speaking Email "highly recommended" by Marc Saltzman in USA TODAY
USA's largest newspaper USA TODAY publishes a tech column by Marc Saltzman. Read his review of how to hear (and reply) to messages hands-free in the car.
23 March 2018
Custom folders, connected cars and 7 day trial
After popular demand Speaking Email now supports reading email from a custom folder instead of "inbox" on Exchange or Office 365. We've also been approached by a car manufacturer to help with their next generation email reader. And new users now get 7 days of free premium.
4 January 2018
Speaking Email back at CES with Bosch
For the second year running, Bosch has selected Speaking Email to be showcased as part of it's MySpin package. To attract the attention of automobile manufacturers looking to integrate email into their vehicles.
8 September 2017
Gizmodo: How to make your phone read everything on screen out loud
David Nield in Gizmodo summarises the various speech apps, with Speaking Email as one of two apps for email reading (the other now defunct).
28 April 2017
How to do email handsfree —  both listening and speaking
We've released several new features recently that now make it possible to do email completely hands-free - including replying, forwarding, flagging, archiving or trashing.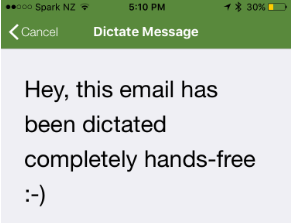 11 April 2017
Listening to you: disabilities, awards, voice commands and dictation
You don't need to be at your desk to do email! With voice commands and reply dictation, you can listen to your email, reply and manage mail using speech input and output.
As well as giving back hours of productive time to business users Speaking Email is helping people living with disabilities in a study at University of South Carolina.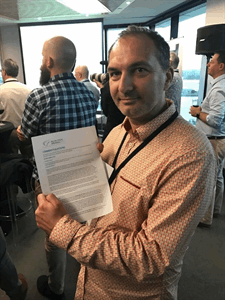 30 March 2017
Finalist in NZ Hi-Tech Awards
Last night Speaking Email was annouced as a finalist in the Mobile category at the Hi Tech Awards finalists announcements at PwC in Auckland.
This is quite a prestigious event so we are pretty stoked just to make the finals, especially considering the competition we were up against. It's awesome to be in the room with some of these companies.





March 2017
NZBusiness Magazine interviews Mike
Mike was interviewed about how Speaking Email came about, how it fits into Beweb, and the future.
20 January 2017
Hottest tech coming this year: CES awards
The Bosch mySPIN system that is soon to include Speaking Email is one of only 31 technologies of the thousands on display at CES to win a CES Innovation Award!
5 January 2017
Speaking Email partners with Bosch to provide email in cars: launch at CES in Las Vegas
Bosch is incorporating Speaking Email into their mySPIN platform, which enables drivers to use authorised apps on their iPhone or Android smartphone via a touchscreen integrated into cars and motorbikes.
24 November 2016
Improved mail fetching, voices and new buttons
Introducing new voices, multilingual email reading, Trash, Reply All, and improved mail fetching across all platforms. Learn more→
11 July 2016
Get briefed on your important email as you drive to work
At Speaking Email we realise you want to save time not waste it. That's why we avoid reading out clutter.
But how do we do that? We've now got 6 ways to keep you hearing your most important emails. Learn more→
20 September 2015
Speaking Email helping blind users read their email
We've been reviewed as a fully accessible app on AppleVis, the online community for visually impaired iPhone users.
Lots of people said this app would be great for blind people so we have been working with the blind community to make Speaking Email accessible using VoiceOver, the screen reader that blind people use to interact with their iPhone.
We had a lot of enthusiastic and supportive feedback:
"I just wanted to say this app is awesome! It makes reading emails a lot easier."
"Your app is one of a handful that could assist people with visual problems and I strongly support your efforts."
"I want to thank you for this app because my 93 year old mother is almost blind from macular degeneration. She can now listen to her emails without needing someone to read them to her"
21 November 2015
Voted 'Most Fundable' by global data solutions provider Return Path
We entered the Context.IO App Challenge Hackathon and came out with an honourable mention and voted Most Fundable category winner.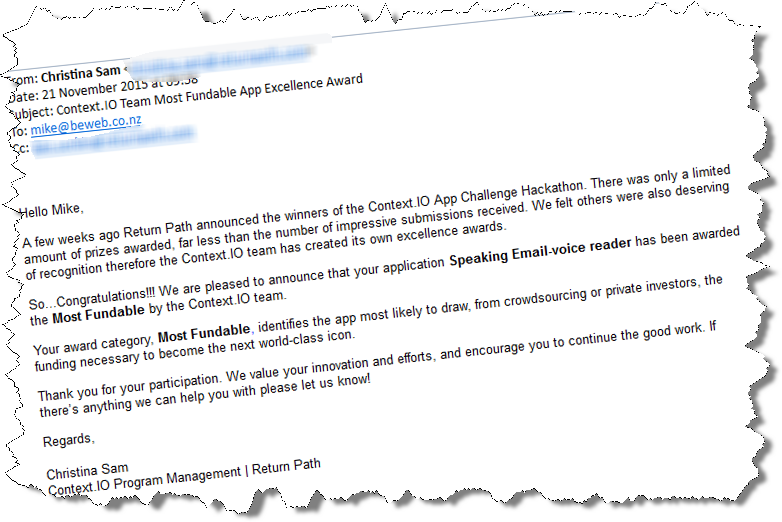 We use some services in Context.IO to identify people's mail settings given their email address. We are planning to extend this even further, as we realise that it can be confusing to set up email - especially as lots of people have their IT dept do it for them!
Go and check out Context.IO and Return Path, if you are interested in the technology behind connecting to mail servers.

2nd November 2015
Technology section of National Business Review
Speaking Email has a nice write up in NBR by Technology writer Chris Keall. It's great for us to be written up in this prestigious news journal, but you will need a subscription to read it, as it's a membership only publication.
There are some great quotes in there from Mike, as well as some comments from Chris about how he found the app's usability and voice charactaristics. Its also good that he mentioned our new Android version.
Here is the NBR link, if you would like to subscribe. NBR

App Store features us under Best New Apps
Swipe across from Tinder and there we are, right next to Netflix as one of the App Store's featured "Best New Apps". We are thrilled to be in the company of such big names!
We've hit the NZ media this week with police cracking down on mobile phones being used unsafely while driving. It's been picked up by newspapers in Australia too!
23 September 2015
Innovator of the Week - Jesse Mulligan on Radio New Zealand National
Speaking Email creator Mike Nelson was interviewed as the "Innovator of the Week" on Jesse Mulligan's show on National Radio.
21 September 2015
Beweb email-reading app trumps 'pretty crap' apps - Interview with Paul Henry - TV3 and Radio Live.
A Kiwi web company has invented an app which reads your emails out loud to you while you're driving.
Beweb designed Speaking Email to help drivers who are tempted to keep across their work emails on the commute to work.
'Software to speak email while you drive' - Review on Driving Tests
It's obviously incredibly dangerous to take your eyes of the road while you are driving and, in an ideal world, we would keep 100% of our attention on the road, too. But that's not realistic for some of us who may have to drive with distractions such as transporting children and pets. Fortunately as we become practiced at driving we become able to have conversations, or listen to the radio.
Read more on www.drivingtests.co.nz→
20 September 2015
Kiwi app lets motorists listen to emails as they drive. A Kiwi company has developed an app that allows drivers to listen to emails at the wheel. Beweb created the free Speaking Email app after director Mike Nelson got frustrated at being unable to safely read emails on his commute from Auckland's North Shore to the city.
And though he admits drivers shouldn't have any distractions, he said banning cellphones while driving wasn't working. Rather than expecting drivers to ignore their phones, apps should be designed with a "safe-driving" mode.
19 September 2015
HEY! STOP EMAILING WHILE DRIVING! Use this new app instead - Idealog
Police around the country have been cracking down on driver distraction this week. The Herald reports that Auckland Police have pulled over a man texting on two cell phones while steering with his knees, a man texting with one hand and drinking a beer with the other, and a woman texting while driving three children and towing a horse in a float.
But in this always-on/always-connected society, so many of us just feel the need to maximise every second, multi-tasking our multi-tasking. So, if you can't stand being away from your email while you're driving to work, there's a new app that'll keep your hands on the wheel and your eyes on the road.
18 September 2015
Email-reading app for drivers - Australian Associated Press
A New Zealand company has developed a phone app which it hopes will reduce drivers' phone distraction by reading out emails - until perhaps it reads you the one from the Nigerian prince which will make you a millionaire. Web development company beweb's first app is Speaking Email, designed after director Mike Nelson said he couldn't find one to help him on his daily commute from Auckland's North Shore.
With police cracking down on drivers illegally using their mobile phones, he says more such apps should be designed for driving.
Read more on:
Email-reading app targets drivers - TV3 news online
An Auckland company has developed a phone app which it hopes will reduce drivers' phone distraction by reading out emails - until perhaps it reads you the one from the Nigerian prince which will make you a millionaire. Read more on TV3 news online→
Email-reading app aims at drivers - NZCity
An Auckland-developed phone app might make it easier for super-connected drivers to stay in touch by reading out their emails. Read more on NZCity→
New app reads emails to drivers - New Zealand Herald and Newstalk ZB radio news
Auckland commuters stuck in traffic might want to know about this. A company has developed a phone app which can read out emails, in the hope it will help stop drivers being distracted by their phones. Read more on NZ Herald→
17 Sep 2105
Kiwi company makes 'checking emails while driving safe' - Voxy
With the New Zealand Police this week cracking down on mobile phone driver distraction, a locally created app could help drivers concentrate on the road, while checking their emails safely. Read more on Voxy→
16 Sep 2015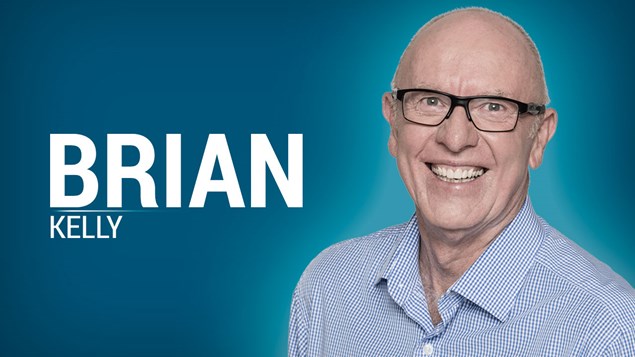 Brian Kelly had a chat to Mike about Speaking Email.
Like us on Facebook for updates:
https://www.facebook.com/SpeakingEmail
Follow us on Twitter:
https://twitter.com/SpeakingEmail