Speaking Email voice commands reference
Speaking Email FAQ
|
Home
|
All FAQs
Q: What voice commands are there?
A: Tap "Commands & Buttons Setup" to see all the commands. Every command on this screen can be used as a voice commands. You can also choose whichever commands you want as buttons to appear in the button overlay.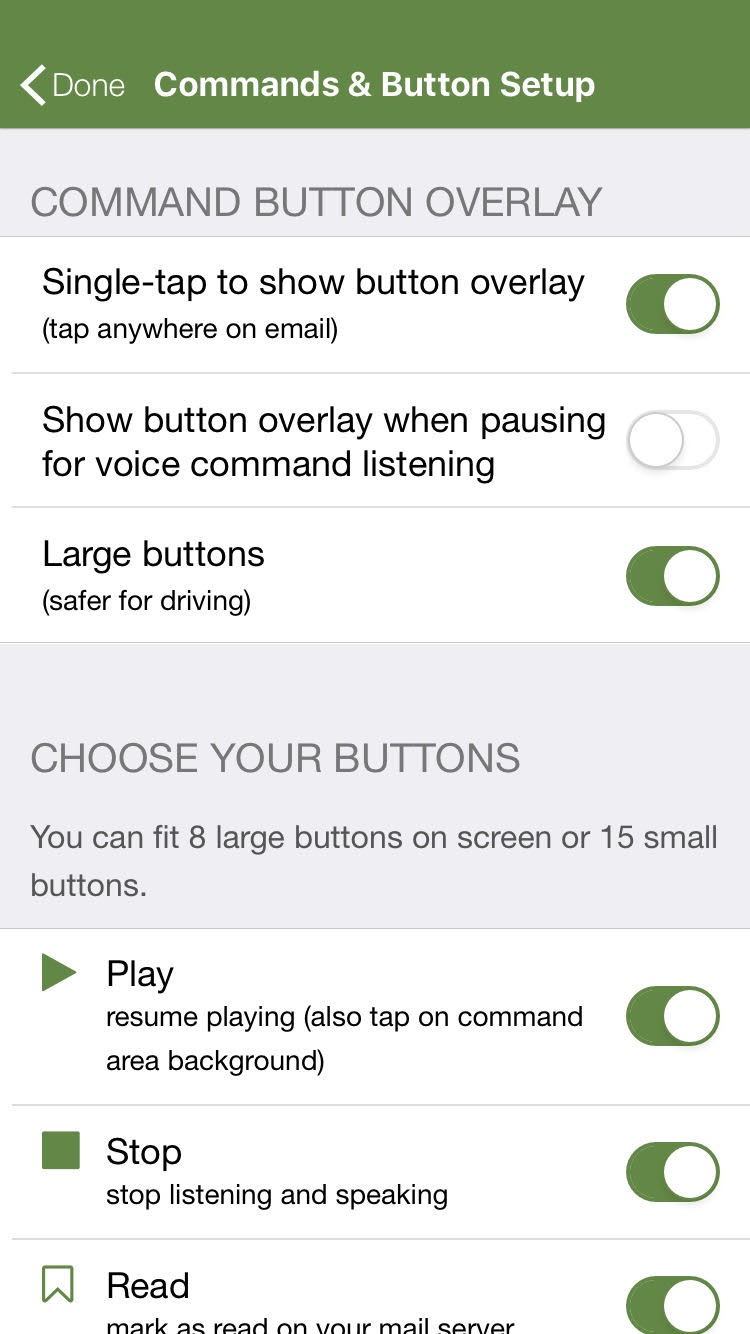 What if you are driving and want to know the commands? Say "help" and Speaking Email will read out the list of commands.
Here is a complete list of commands. You must have the Premium Edition to activate commands with a *
Play – resume playing (also tap on command area background)
Stop – stop listening and speaking *
Read – mark as read on your mail server *
Unread – mark as unread on your mail server *
Flag – add a flag or star on your server
Ignore Sender – easily filter out mail you don't want to hear *
Important – mark a sender as important so they will be read out first in future *
Dictate Reply – reply by voice dictation *
Instant Reply – reply by selecting from a list of preset replies *
Forward – forward the email to a colleague *
Back – play previous email (you can also swipe)
Next – play next email (you can also swipe)
Rewind – jump back 4 sentences (you can also scroll up) *
Repeat – re-start playing current email *
Skip – skip forward 4 sentences (you can also scroll down) *
Archive – move to 'archive' folder on your server
Done – perform the same action as double-tap, such as archive or mark-as-read on your server *
Trash – move to trash / deleted items folder on your server *
Inbox – browse list of the most recent emails in your inbox *
Preferences – change options using the Preferences Wizard *
Menu – show the home / menu screen *
Slower – slow down the speech rate *
Faster – speed up the speech rate *
Unsubscribe – unsubscribe from a promotional email *
Quit – close Speaking Email *
Help – list commands you can say
Voice – change reading voice
Download our cheat sheet to see all the commands including dictation commands.
What is Speaking Email?
An app for iPhone and Android that reads your email out loud to you. It intelligently extracts content from emails (minus the signatures, disclaimers and threads). And it lets you action your email - archive, mark-as-read, trash, flag, reply, or forward. It can be completely by voice command, or use the large on-screen buttons or full screen touch gestures.
Who is it for?
People with blindness or visual impairment. People who are busy and run out of time to get through their inbox. People who want to make productive use of time when driving between appointments.
Do you have Apple CarPlay?
See our other product Speaking Email CarPlay.
Find out more