Setting the sync window (number of days back to sync)
Speaking Email FAQ
|
Home
|
All FAQs
Q: Why am I only seeing one day's email in my ActiveSync account?
A: The ActiveSync protocol has a notion of a sync window, which is the number of days back of email to fetch from the server.
By default Speaking Email will set this to One Day Back initially. Whenever there are fewer than 100 emails Speaking Email will automatically extend the sync window. You can set the window yourself and turn off the automatic growing feature.
Go into Preferences > Account Specific Settings > You account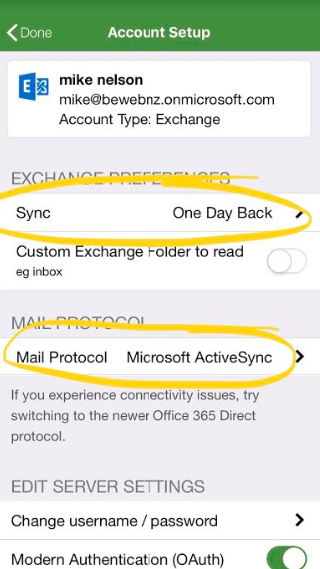 If you are on Office 365 you will also see the Mail Protocol switch which enables you to change to Office 365 Direct. We recommend changing to this if it's available and works with your account type. It does use a number of days back sync window, but will instead download all your latest emails (up to the maximum set in preferences, usually 250).
What is Speaking Email?
An app for iPhone and Android that reads your email out loud to you. It intelligently extracts content from emails (minus the signatures, disclaimers and threads). And it lets you action your email - archive, mark-as-read, trash, flag - using voice commands or on-screen buttons. It works with Microsoft 365 (aka Office, Outlook) and Gmail email accounts, as well as most other providers including any standard IMAP server.
Who is it for?
People who are busy and run out of time to get through their inbox. People who want to make productive use of time when driving to work. People with blindness, vision problems, or other disabilities who cannot see or type and want to be able to hear, reply to, and compose emails by voice.
Does it work on Apple CarPlay?
See our other product Speaking Email CarPlay if you have CarPlay.
Is is free?
Yes it is free to download the basic edition. Free features:
Email text-to-speech (TTS) with smart content detection (this is awesome, you will be blown away!)
On-screen buttons for basic actions next/prev, archive, flag
Do I have to upgrade?
Nope, but you can upgrade for:
Multiple accounts
Attachment reading
Voice commands (you will love this!)
Dictation - reply/forward/compose (you will love this even more!)
Find out more