Enabling Speaking Email to access your Yahoo Mail
Speaking Email FAQ
|
Home
|
All FAQs
Q: How do I sign in with Yahoo Mail?
A: Generally you cannot use your regular Yahoo password with Speaking Email. Yahoo requires you to set up an "app password" which makes this connection very secure.
You need to set up the "app password" on the Yahoo website, which you can either do inside Speaking Email (it launches in a pop up window enabling you to copy and paste) or do it on your computer (a bit easier on a bigger screen) and type in the generated password.
Option 1 - Set up a App Password
See the instructions from Yahoo here for creating an app password which you can use instead of your normal password when asked for a password in Speaking Email. This is the most secure method of connecting.
You can either do this within Speaking Email (it opens Yahoo in a window) or on your desktop computer and type the password that is generated into Speaking Email on your phone.
Click here to go to the Yahoo security settings page where you can set this up.
As always, there is a catch - before you can generate an app password, you must either turn on two-step verification or enable Yahoo Account Key.
Enabling 2-step verification makes your account more secure, but it may require you to use a text message verification or other additional security from time to time when you use your yahoo account. Therefore make sure you know your password and have your recovery email and mobile number set up correctly. You should be prepared in case you are not willing to the suffer additional security challenges it may entail.
Option 2 - Enable IMAP (no longer available)
Previously you could enable apps to connect via IMAP by changing a setting in your Yahoo account (shown below). This option is no longer available for most accounts, but if you have enabled this previously it might still work. In this case it would use your regular Yahoo password.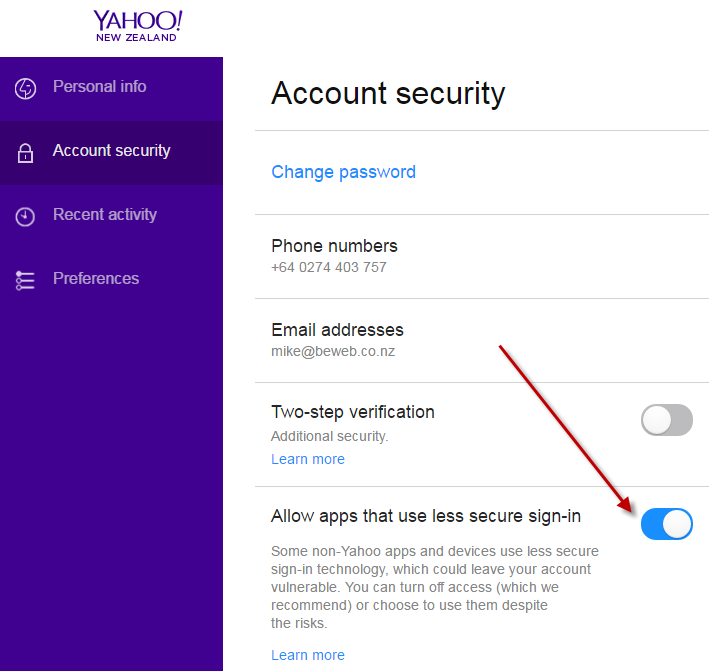 Speaking Email uses IMAP to connect to Yahoo, which is the industry standard. IMAP has a secure mode, which Speaking Email uses, meaning all data including your password is encrypted over the network.
What is Speaking Email?
An app for iPhone and Android that reads your email out loud to you. It intelligently extracts content from emails (minus the signatures, disclaimers and threads). And it lets you action your email - archive, mark-as-read, trash, flag, reply, or forward. It can be completely by voice command, or use the large on-screen buttons or full screen touch gestures.
Who is it for?
People with blindness or visual impairment. People who are busy and run out of time to get through their inbox. People who want to make productive use of time when driving between appointments.
Do you have Apple CarPlay?
See our other product Speaking Email CarPlay.
Find out more