How to help us diagnose a problem with Speaking Email
Speaking Email FAQ
|
Home
|
All FAQs
Q: I'm having trouble, how can I send you a screenshot?
A: We take bug reports and usability issues very seriously, and would like to hear from you with as much detail as possible to help us sort out the issue. If there is a problem, quite often Speaking Email will send us an error report. Sometimes a screen shot from your phone can be helpful in diagnosing the problem. To take a screen shot you can (in Android), press (and hold for 3 secs) the power and volume down buttons at the same time. This will add a photo of the screen to your photos app, and you can email us that. In iPhone, you can take a screen shot by following these instructions:
Press and hold the Sleep/Wake button on the top or side of your device.
Immediately press and release the Home button.
To find your screenshot, go to the Photos app > Albums and tap Camera Roll.
Send us the screen shot, along with the time, date you took it, and which time zone you are in.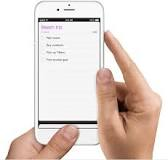 What is Speaking Email?
An app for iPhone and Android that reads your email out loud to you. It intelligently extracts content from emails (minus the signatures, disclaimers and threads). And it lets you action your email - archive, mark-as-read, trash, flag, reply, or forward. It can be completely by voice command, or use the large on-screen buttons or full screen touch gestures.
Who is it for?
People with blindness or visual impairment. People who are busy and run out of time to get through their inbox. People who want to make productive use of time when driving between appointments.
Do you have Apple CarPlay?
See our other product Speaking Email CarPlay.
Find out more